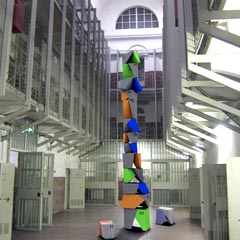 Flexibility: Design In A Fast-Changing Society
29th June - 12th October '08
Ex-Carceri, "Le Nuove"
Via Paolo Borsellino 1, Torino Italy
In 2050 over 90% of the world's population will live in cities. These systems of close-knit connections between material objects and immaterial factors produced by man are often directly responsible for reducing, and sometimes even paralysing, the manoeuverability of individuals.
The exhibition "Flexibility - design in a fast-changing society" poses questions about bonds between flexibility and design, where flexibility is intended as the ease with which a system or components of it can be modified and adapted for use in different applications or settings to the ones for which they were originally designed.
Appropriately set at the "Ex-Carceri, Le Nuove" former prison, the show stretches out along the corridors flanked by the cells. A sound track from the musical research of three sound designers echoes throughout. The effect is strident and of great impact.
Featuring the work of international designers including KramWeisshaar, Matali Crasset, Patricia Urquiola and Ross Lovegrove, the exhibition explores the diverse ways of designing the world and society starting from a concept of adaptability. Examples are proposed for effective design objects and solutions in terms of transforming our houses, workplaces and cities into more versatile and elastic places.
www.torinoworlddesigncapital.it