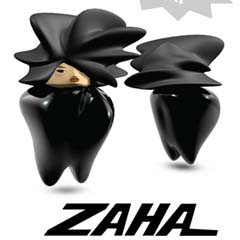 Olivia Lee
Limited Edition Designer Dolls
There is nothing like poking a little fun at your own industry, which is exactly what Central St. Martins Student Olivia Lee has done with her graduation project "Limited Edition Designer Dolls", which consists of a series of plastic dolls of Karim Rashid, Zaha Hadid and Jaime Hayon.
In her own words Lee sums it up beautifully....
"Have you ever bought something only because it was 'designer' regardless of practicality or cost? Do you faithfully attend the various furniture fairs around the world from Milan to Shanghai? Do you have a favourite designer? Do words like Icon, Blueprint and Wallpaper mean more to you than a random string of nouns? If so, then welcome to The Cult of Design.
Limited Edition Designer Dolls pokes fun at the Design cognoscenti. By carefully studying the visual languages and distinct personalities of some of the Design world's most formidable designers, this project is an observation of how designer personalities are literally becoming synonymous with the objects they design."
To top it off Lee even managed to sneak her Karim Rashid doll into the Design Museum shop for a quick pic. I imagine it won't be long till we can find these dolls legitimately lingering on the shelves of our local design shops.
Jaime Hayon Limited Edition Doll - Olivia Lee
Karim Rashid Limited Edition Doll - Olivia Lee
Karim Rashid Limited Edition Doll - Olivia Lee