Scrapwood High Cupboard
Please
LOGIN
or
CREATE A NEW ACCOUNT
in order to buy the item you are interested in.
If you have any queries regarding this item or are looking for any other special design please feel free to contact us at
info@detnk.com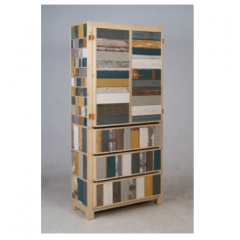 Each piece is unique and therefore will have variations in the tones of the coloured wood. Please contact us if you require any information or would like to order by email at info@DeTnk.co.
All prices exclusive of shipping and VAT.  Estimated shipping 8-12 weeks.
Scrapwood High Cupboard