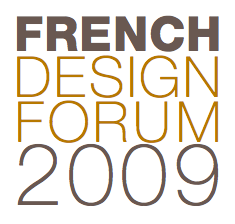 French Design Forum
3rd March '09, 3:00-5:30pm
Design Centre at Chelsea Harbour
411 The North Chambers, Chelsea Harbour, London
The French Embassy is delighted to be hosting a forum considering new directions for French Manufacturing at the Design Centre at Chelsea Harbour.  
More and more we are witnessing a new relationship between designers and manufacturers developing. Manufacturers are adopting a more imaginative approach for making contemporary designs which involves collaborating with designers. This work is built on innovation, local resources and traditional skills, creating products with both authenticity and beauty.   
Consequently the definition of craftsmanship has deepened and young designers are becoming more and more eager to experiment with the craft techniques of the decorative arts, and we are finding that there is a healthy market for the results.   
Questions surrounding French manufacturing, collaborations with designers, commercialisation, significance, and integrity will be discussed and debated by Matali Crasset, André Dubreuil, Giles Hutchinson Smith (META), and Rabih Hage. The event will be chaired by design connoisseur and critic Max Fraser.  
To book your space register HERE